Butcher Block Countertops should be cleaned and sanitized daily, and all oil finished surfaces should be wiped cleaned as soon after use as possible to avoid stains and discoloration.
Wipe up moisture right away before it has a chance to absorb into the wood. If prepping food for an extended amount of time, stop periodically to wipe down the surface and remove moisture that may have accumulated.
Remove food residue after use, stuck on residue can be removed with a spatula (plastic is preferred) that is smooth and flat.
On a daily basis, sponge off surface with a mild dishwashing soap. Cleaning and disinfecting in one can be accomplished by using undiluted vinegar, which won't leave a strong odor.
Maintenance should be performed regularly, ideally monthly or bimonthly, but at a minimum every six months. Because knives will cause nicks and scratches in the surface and food stains will happen even if extra care has been taken, it is important to condition and sometimes fully refinish your surface.
Be sure the surface is thoroughly cleaned and free of any stuck on residue.
To condition: Pour mineral oil all over the countertop and spread with a cloth to coat the entire surface. Allow to sink in and dry for about an hour, and apply another coat.
To remove scratches and stains: Lightly sand the surface with a coarse grit and then a finer grit to remove imperfections, follow with conditioning steps above.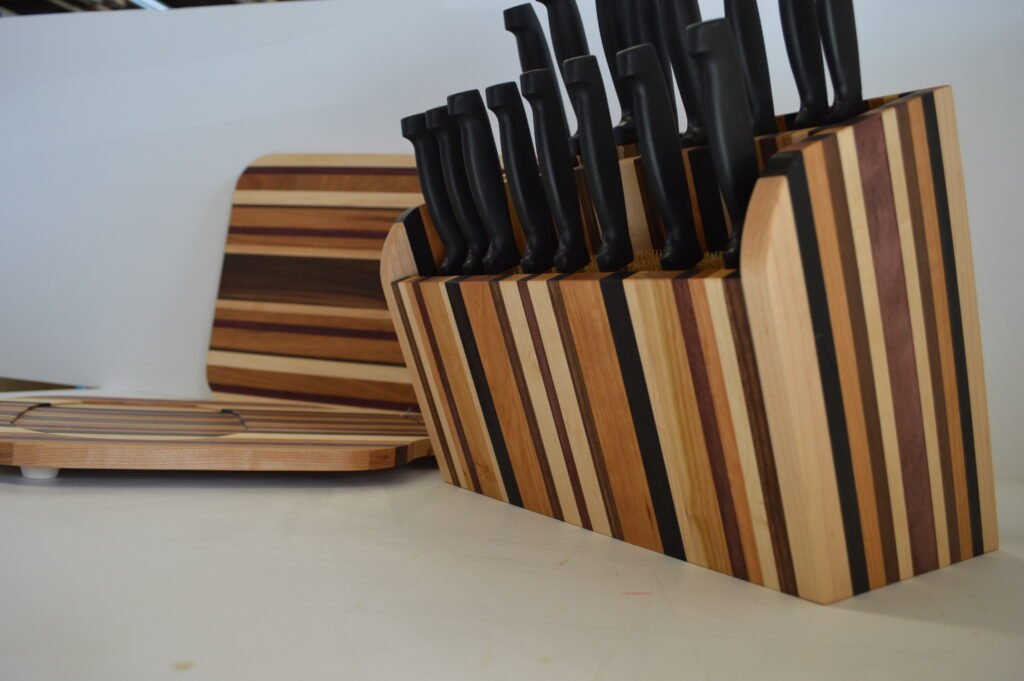 Mold and rot are a concern if the surface is not kept dry.
Wipe up any puddles as soon as they are noticed.
Try not to surround the sink with butcher block if at all possible. Since the wood will expand and contract when wet, be sure to have a good seal on all edges if you do choose to surround it.
Stains are inevitable, but most can be easily removed if addressed as soon as possible.
For set stains: sprinkle the stain with a little coarse salt, then using half of a lemon, rub the salt into the stain to remove.
For fresh stains: cover the stain entirely with baking soda and rub it into the stain and let sit. Scrub with a sponge moistened with either soap and vinegar.